This is driving me nuts! The cost, mind you, is what's really driving me nuts. A rainbow crosswalk has been added to an Atlanta intersection to the sum of $196,000 OF WHICH ONLY $44,000 was privately funded.
This means that $152,000 of tax payer money went toward funding the project. WHAT!!!!!
According to the City of Atlanta, the crosswalks at the intersection of of 10th and Piedmont cost $196,000 to install and should last for about 10 years before repairs are need. The contractor has guaranteed repair and maintenance free of charge for the first year only.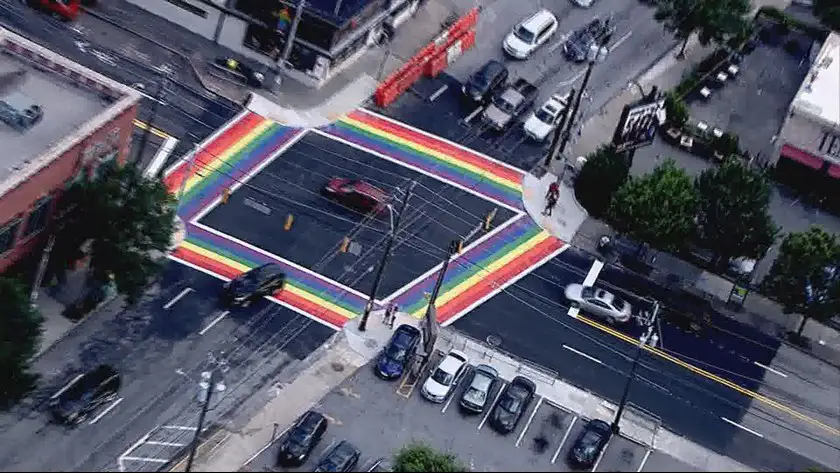 The intersection of 10th and Piedmont has been considered the heart of Atlanta's gay community for many years.
"The initial cost to install the crosswalk is approximately $196,000," Mayor Reed's Deputy Press Secretary Jewanna Gaither told Georgia Voice via email. "The life expectancy of the crosswalk is 10 years. Our contractor will make any necessary repairs, including normal wear and tear updates, as part of the warranty for the first year at no charge. The Department of Public Works will be responsible for pressure washing the crosswalk as needed."
"I believe that symbols of unity matter; in recognition of the outstanding and ongoing contributions of Atlanta's LGBTQ community to our city, I am pleased to announce today that the City will install the rainbow crosswalks at the intersection of Piedmont Avenue and 10th Street year-round," Reed said in a news release. "This intersection in Midtown is recognized for its history as a hub for Atlanta's LGBTQ community, and it is fitting that such an important and recognizable place should feature the rainbow flag."
Atlanta's rainbow crosswalks follow similar projects done in Seattle, Key West, Philadelphia and the Castro in San Francisco. However, it should be noted that these did not cost NEARLY AS MUCH as the one in Atlanta…
According to MyNorthWest.com, Seattle Mayor Ed Murray spent $66,000 on nearly a dozen rainbow-colored crosswalks in the Capitol Hill neighborhood.
In Philadelphia, initial costs were $26,000. I'm still looking for the final figure there, I'll update this if I find it.
So, in case you couldn't tell, I'm fuming over the cost of Atlanta's crosswalk. This is nuts. We've got vets in pain, homeless, not food… we have children not eating tonight… and so much more! If you want to keep it within the "gay realm" well, how about using that money to help gay kids kicked out of their homes, essentially becoming homeless.
And this isn't just about Atlanta… cities using tax payer money on these projects are wasting it! It could, as pointed out above by a few examples, be better spent on any number of "public services".