Amena Khan, a now-former model for L'Oréal, resigned from her position with them just days after the her first shampoo commercial with the company after it was revealed that she made some pretty harsh anti-Israel tweets in 2014.
The Tweets are now-deleted but that didn't stop the internet detectives from saving them!
For example, the model once stated: ""Remember: the brutal murder of Palestinians had been occurring MANY years before the formation of Hamas. Israel's excuses are blatant lies," Khan wrote in one of the tweets."
She has even tweeted directly to the David Cameron, former British Prime Minister, saying: "You're complicit in the supplying of weapons to a terrorist state. You offered 'staunch support' of genocide."
"U repeatedly say 'nobody is above the law.' Well, under international law, Israel is an illegal state," Khan added.
Khan has even blamed Israel as the sole source for the "strike" suffered in the Middle East, according to Jerusalem Post: "Israel is a sinister state & the ones who suffer most are innocent children."
One random hero has some screenshots, too: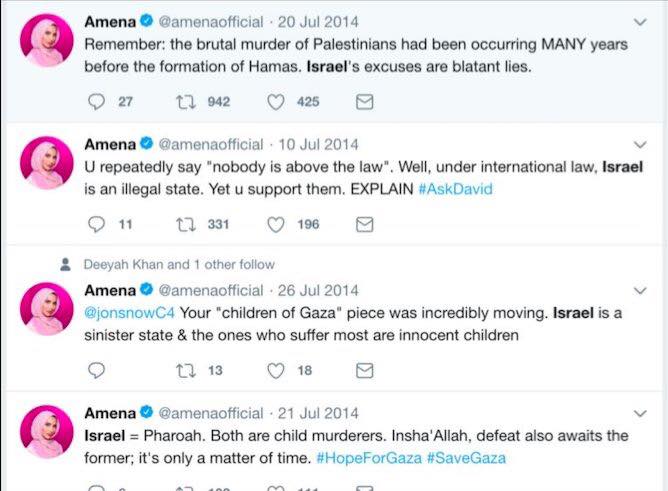 Khan finally released a statement where she tried really hard to save some face:
"I deeply regret the content of the tweets I made in 2014, and sincerely apologize for the upset and hurt that they have caused," Kahn posted in a tweet Monday. "Championing diversity is one of my passions, I don't discriminate against anyone. I have chosen to delete them as they do not represent the message of harmony that I stand for."
In a news release, a L'Oreal spokesperson said:
We have recently been made aware of a series of tweets posted in 2014 by Amena Kahn, who was featured in a UK advertising campaign.

We appreciate that Amena has since apologised for the content of these tweets and the offence they have caused.

L'Oreal Paris is committed to tolerance and respect towards all people. We agree with her decision to step down from the campaign.
The only real issue here is that if the roles were reversed and she was a Christian, the liberal-side of the internet would be having a field day with this.
Featured Image source: Youtube