This is the sorta stuff I LOVE to see. A random, mysterious, stranger at a Denny's picked up the tab for a group of firefighters who had been fighting the insane California wildfires… and it was no small amount. In fact, the bill was over $400!
https://www.facebook.com/ColtonFire/photos/a.487216534645172.117545.380947425272084/1589014811132000/?type=3&theater
While this is a random act of kindness, it's not necessarily a rare occasion for the area. According to Capt. Tom DeBellis, it happens "all the time, especially when we're fighting big fires". Good stuff… maybe there's hope for California yet?!
As written for Fox News by Leah Bitsky:
A flock of firefighters who had been battling the raging California wildfires were eating at a Denny's restaurant when another patron decided to show her appreciation.
"While eating, an anonymous woman told the Denny's staff that she wanted to buy all of the firefighter's meals," the Colton Fire Department posted to Facebook.
With about 25 firefighters dining at the time, the steep bill came out to $405, including tip. The kind woman not only paid the bill, but also shelled out $100 to treat the crew to dessert.
Denny's patron picks up $400 check to thank California firefighters for battling wildfires
These fires are spewing so much smoke they can be seen from space!
As written for SFGate.com by Michelle Robertson:
In an image taken by the Terra satellite on Sunday afternoon (see first photo in above gallery), smoke from at least four Southern California wildfires billows northward and trickles southeast over the Pacific Ocean. The second image in the gallery shows how far the finger of smoke reaches into the waters off the coast of Mexico.
As of Tuesday, the Alamo and Whittier fires are 45-percent and 95-percent contained, respectively. According to Santa Barbara County fire Capt. 
Dave Zaniboni
, whose department is fighting the two fires, heavy winter rains are likely to blame for the fierceness of this season's flames.
"What the heavy rains have done is created a grass crop that we haven't seen in forever," he said. "That creates faster moving fires, hotter fires, it carries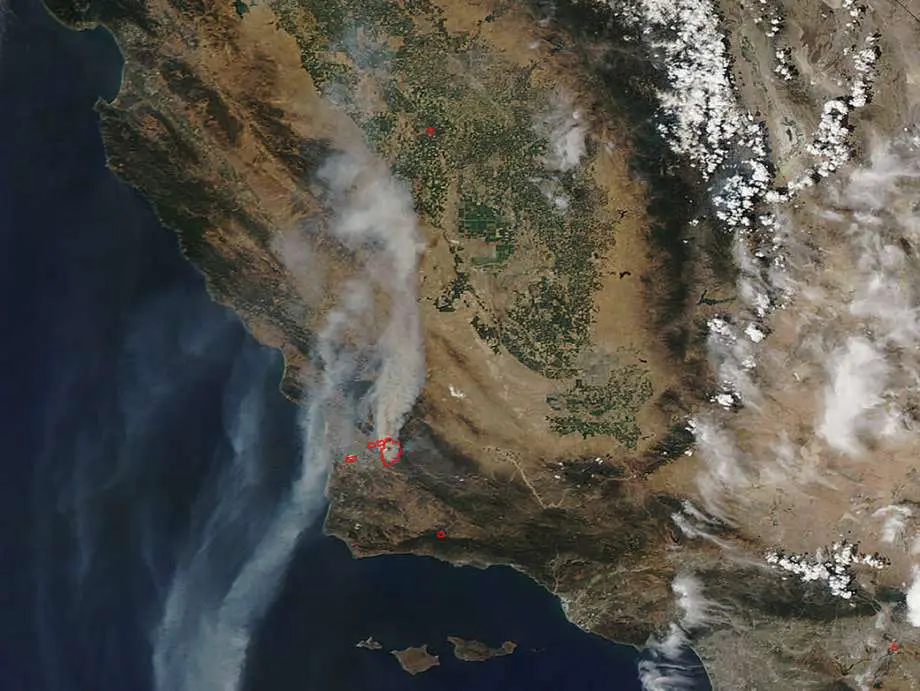 California wildfires spewing so much smoke, they're visible from space