Sen Ron Johnson wants some answers on redactions that were made to protect the identities of people who were involved in various questionable activities and had absolutely nothing to do with National Security.
Johnson told FBI Director Christopher Wray that his committee needs these names so they know what other information they might need and to know who to call in for questioning. Both the FBI and the DOJ have been covering for the Deep State, with Rod Rosenstein allegedly changing the DOJ IG's report to protect the guilty.
Johnson asked Wray on May 11 to explain the "excessive" redactions in the text messages, which Strzok exchanged with former FBI lawyer Lisa Page.
Johnson, a Republican, met on June 7 with U.S. attorney John Lausch, who the FBI and the Justice Department tasked to handle congressional requests for documents related to the Clinton email investigation. Congress has also sought documents related to secret surveillance warrants that the FBI and DOJ obtained against former Trump campaign adviser Carter Page.
The text messages came to light during a Justice Department inspector general probe of the FBI's handling of the Clinton email investigation. Strzok was removed from Special Counsel Robert Mueller's investigation into Russian collusion because many of the messages showed he and Page mocking and criticizing Donald Trump.

This next redaction was hiding the identity of the person who said the White House was running the investigation: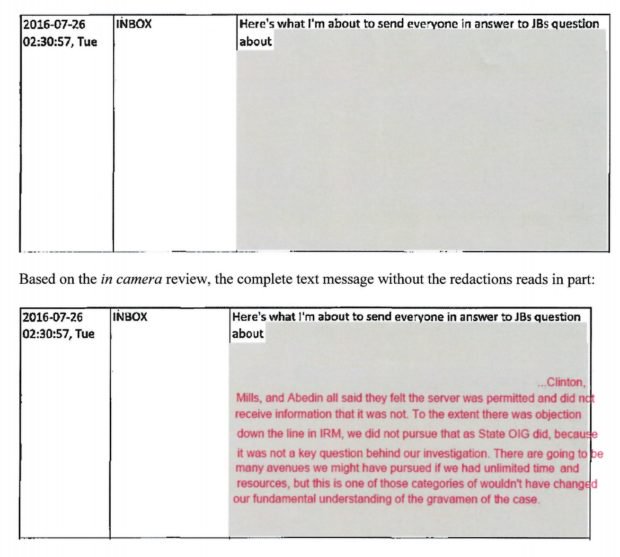 This is explosive stuff and someone needs to answer for it.