A transgender athlete's impressive performance in the CIF-North Coast Section Meet of Champions has recently ignited a wave of criticism directed towards California's high school sports governing organization. Athena Ryan, a junior from Sonoma Academy, competed in the varsity-level girls' 1,600-meter run and secured an outstanding second-place finish. However, despite Ryan's remarkable achievement, controversy surrounding her participation and its implications unfolded.
The event, held on Saturday, witnessed fierce competition among talented athletes. Hanne Thomsen from Montgomery emerged as the race's victor, with a commendable first-place finish. Following Thomsen, Ryan crossed the finish line, securing the runner-up position. Close behind, Ellie Buckley from Campolindo claimed third place. The athletes' remarkable performances showcased their dedication and hard work in their respective disciplines.
In the wake of Ryan's success, the Independent Council for Women in Sport shared a link to a social media post that highlighted her performance. The post drew attention to the challenges faced by transgender athletes and their place in sports competitions. However, it also ignited controversy, as a group called WomenAreReal alleged that attendees at the event carried a banner displaying the words "Protect Female Sports."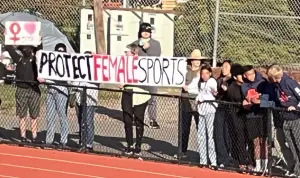 The presence of the banner triggered a range of emotions and responses from spectators and participants alike. One woman, upon seeing the banner, expressed her strong disapproval by stating, "I find that offensive." In a separate video clip, security personnel were observed attempting to apprehend the individuals holding the banner. These incidents revealed the complex and contentious nature of discussions surrounding transgender participation in sports.
Despite the protests and controversies, Ryan displayed resilience and focused on her outstanding performance. Her final time in the 1,600-meter run was an impressive 4 minutes and 55.91 seconds. Reflecting on her achievement, Ryan shared her thoughts with MileSplit, a prominent media outlet covering high school athletics. She expressed her surprise at her own progress, stating, "I dropped like 17 seconds on my season's best in the past two weeks. I never thought I'd be able to run in the low fives again after last weekend. I came here to try to get a five, and I'm glad I did it." Ryan's positive mindset and dedication to her sport shone through her words.
Looking ahead, Ryan eagerly anticipated the upcoming CIF State Track and Field Championships, where she had earned qualification to compete. Despite the challenges and controversy surrounding her participation, Ryan expressed her intention to enjoy the event and continue pursuing her passion for running.
It is worth noting that Ryan's participation in the CIF-North Coast Section Meet of Champions was made possible by the California Interscholastic Federation's (CIF) commitment to inclusivity. The CIF provides a "Gender Diverse Youth Sports Inclusivity Toolkit," which outlines guidelines and regulations for transgender participation in sports. Within this toolkit, there is a dedicated chapter addressing "Gender Identity Participation." These regulations have been in place since 2013, allowing students to engage in sports and activities that align with their gender expression.
The CIF's guidelines emphasize the importance of ensuring that all students, regardless of their gender identity, have the opportunity to participate fully in CIF sports and activities. The organization recognizes that while most athletic programs are currently offered separately for boys and girls, it is crucial to provide an inclusive environment for gender-diverse students. As outlined in CIF Bylaws 300.B and C, athletes should engage in activities that correspond with their sexual orientation or their predominant gender identity. Eligibility for participation is determined through consultation with the school's eligibility staff, and once permission is granted for a compatible sport, it remains permanent and is not restricted to specific sports seasons or academic years.
In conclusion, Athena Ryan's exceptional performance in the CIF-North Coast Section Meet of Champions