Ilhan Omar trashed President Trump, but then said that we shouldn't just be mad at him since Obama's policies were terrible. She brought up his caging of children at the border and for his drone attacks in various countries, killing terrorists.
She wants no one harmed who is on her speed dial. She has tried to back away from her statements but unfortunately, there is an audio of the interview that backs what the reporter quoted her as saying.
From The Daily Wire
Politico Magazine reports:
As she saw it, the party ostensibly committed to progressive values had become complicit in perpetuating the status quo. Omar says the "hope and change" offered by Barack Obama was a mirage. Recalling the "caging of kids" at the U.S.-Mexico border and the "droning of countries around the world" on Obama's watch, she argues that the Democratic president operated within the same fundamentally broken framework as his Republican successor.
In the very next paragraph, immediately after trashing Obama, Omar stated: "We can't be only upset with Trump. … His policies are bad, but many of the people who came before him also had really bad policies. They just were more polished than he was. And that's not what we should be looking for anymore.
We don't want anybody to get away with murder because they are polished. We want to recognize the actual policies that are behind the pretty face and the smile."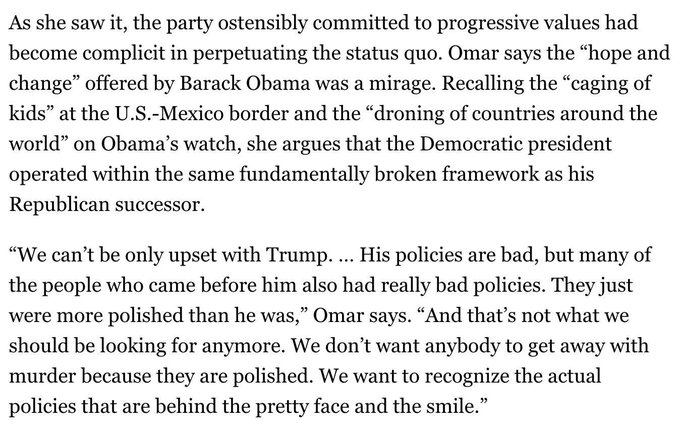 "The comments came after the passage Thursday of a broad anti-bigotry resolution prompted by Omar's prior comments about Israel," Fox News reported. "The resolution and the drama surrounding its passage exposed chasms in the Democratic caucus regarding Israel and marked a coup of sorts for a tight-knit band of House freshmen who — in a matter of hours — were able to shift the spotlight away from Omar's allegedly anti-Semitic remarks and refocus on issues like Islamophobia and pro-Israel lobby AIPAC."