Here is a feminist that has her act together and obviously can think for herself. She is not letting Hollywood, the media, or society tell her what she can and cannot believe. Camille Paglia is not your run of the mill feminazi. Her view of society is pretty much the same as yours and mine. Her view of Hillary Clinton will not endear her to the alt-left. Read here the surprising things she says about Hillary's excuses.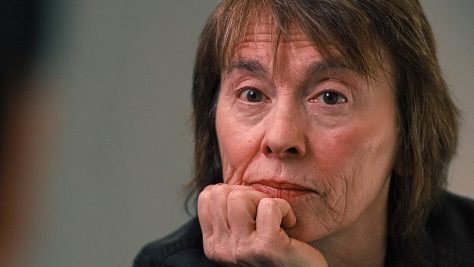 As Written By Sam Dorman for the Free Beacon:
Camille Paglia is a woman of seeming contradictions. She's a lesbian who thinks homosexuality is not normal, a Democrat who often criticizes the party's 2016 presidential nominee Hillary Clinton, a self-described "transgender being" who calls sex changes for children "abuse," and a feminist who says abortion is "murder."
Decades after she burst onto the scene with her best-selling book Sexual Personae, Paglia is back with a timely commentary on sex and gender. Her recent book Free Women, Free Men argues, among other things, that feminism is "stunting the maturation of both girls and boys" and that "if women seek freedom, they must let men too be free."
Paglia talked to the Washington Free Beacon about a variety of topics including Sen. Elizabeth Warren's (D., Mass.) alleged populism, Megyn Kelly's performance as a moderator during the first Republican presidential primary debate, and whether misogyny played a role in Hillary Clinton's failed 2016 presidential bid.
You say in your new book that feminism's "sex war" has stunted the maturation of both girls and boys. What do you think is the end result of that?
Second-wave feminism went off the track when it started to demonize men and blame them for all the evils in human history. It's a neurotic world-view that was formulated in too many cases by women (including Gloria Steinem and Kate Millett) with troubled childhoods in unstable homes. First-wave feminism, in contrast, focused on systemic social problems that kept women in secondary or dependent status. My favorite period in feminism has always been the 1920s and 1930s, when American women energized by winning the vote gained worldwide prominence for their professional achievements. My early role models, Amelia Earhart and Katharine Hepburn, were fierce individualists and competitors who liked and admired men and who never indulged in the tiresome, snippy rote male-bashing that we constantly hear from today's feminists. I am an equal opportunity feminist who opposes special protections for women. What I am saying throughout my work is that girls who are indoctrinated to see men not as equals but as oppressors and rapists are condemned to remain in a permanently juvenile condition for life. They have surrendered their own personal agency to a poisonous creed that claims to empower women but has ended by infantilizing them. Similarly, boys will have no motivation to mature if their potential romantic partners remain emotionally insecure, fragile, and fearful, forever looking to parental proxies (like campus grievance committees or government regulators) to make the world safe for them.
What impact, if any, do you think Hillary Clinton's loss in 2016 had on feminism? Former Texas state senator Wendy Davis said Clinton faced a "misogynistic climate" during the election. Do you agree with this?
Misogyny played no significant role whatever in Hillary Clinton's two defeats as a presidential candidate. This claim is such a crock! What a gross exploitation of feminism—in the service of an unaccomplished woman whose entire career was spent attached to her husband's coat tails. Hillary was handed job after job but produced no tangible results in any of them—except of course for her destabilization of North Africa during her rocky tenure as secretary of state. And for all her lip service to women and children, what program serving their needs did Hillary ever conceive and promote? She routinely signed on to other people's programs or legislative bills but spent the bulk of her time in fundraising and networking for her own personal ambitions. Beyond that, I fail to see how authentic feminism can ever be ascribed to a woman who turned a blind eye to the victims of her husband's serial abuse and workplace seductions. The hypocrisy of feminist leaders was on full display during the Monica Lewinsky scandal, which incontrovertibly demonstrated Bill Clinton's gross violation of basic sexual harassment policy. Although I had voted for him twice, I was the only feminist at the time who publicly condemned Clinton for his squalid and unethical behavior with an intern whose life (it is now clear) he ruined. Gloria Steinem's slick casuistry during that shocking……
THERE IS MORE KEEP READING HERE:
Prominent Democrat Feminist Camille Paglia Says Hillary Clinton 'Exploits Feminism'