There's no longer any doubt far left-wing groups and social media giants are colluding to shut down conservatives… Putting the Democrats back in power. The evidence is a 49-page memo written by David Brock.
Whom co-founded Media Matters with Hillary, that he introduced at a George Soros funded retreat. They openly admit they get raw data from Twitter and Facebook and then show them how to eliminate "fake news". Fake news being defined as helpful facts that are used by conservatives.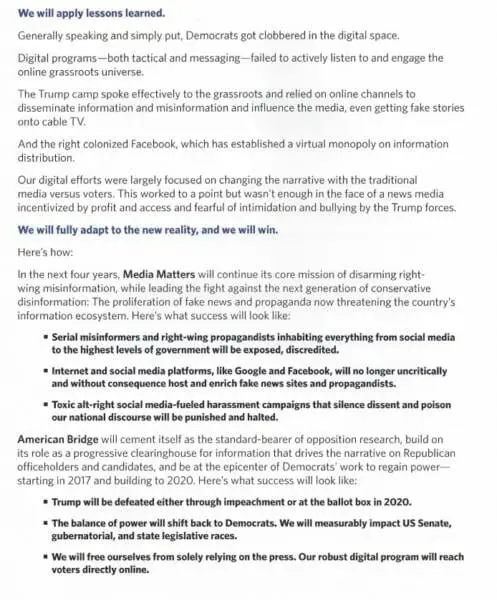 The document then claims that Media Matters and far left groups have "access to raw data from Facebook, Twitter, and other social media sites" so they can "systemically monitor and analyze this unfiltered data."
According to their report, these far-left groups have been working with Facebook and Twitter to eliminate conservative content.
Via The Daily Wire:
"The earlier we can identify a fake news story, the more effectively we can quash it," the memo states. "With this new technology at our fingertips, researchers monitoring news in real time will be able to identify the origins of a lie with mathematical precision, creating an early warning system for fake news and disinformation."
The memo went on to state that Media Matters had a discussion with Facebook on how to crack down on fake news, including Media Matters providing the social media giant with "a detailed map of the constellation of right-wing Facebook pages that had been the biggest purveyors of fake news." The memo also bragged that Media Matters provided Google with "the information necessary to identify 40 of the worst fake new sites" that would be prevented from using Google's advertising network.
Will anyone in Washington care to investigate this collusion? I don't think so. But they should, they really really should. What do you think? Shout out in the comments below.