Now Retired Marine Master Sgt. William H. Cox and Retired Marine First Sgt. James 'Hollie' Hollingsworth were hunkered down inside a bunker during the Vietnam War, shielding themselves from the rockets and mortars aimed their way fighting in the Marble Mountains during New Year's Eve of 1968.
Strangers before then, they vowed that if they ever made it out of the bunker and survived the war that they would contact one another every New Year's Eve.
And for the next 50 years the two men kept that promise to one another and every New Year's Eve they found a way to catch up.
Word reached Cox that his wartime friend was dying in Hephzibah, Georgia. The 83-year-old traveled down to say goodbye to his fellow brother-in-arms and he made him a promise: He stood guard at Hollingsworth's casket and then delivered the eulogy at his funeral.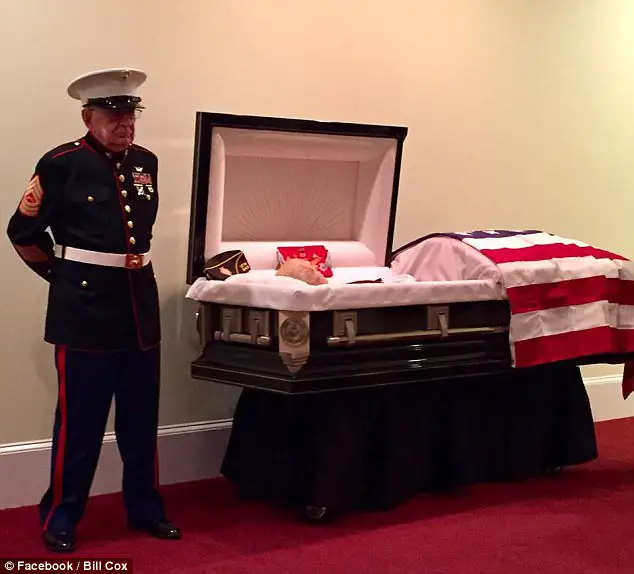 Hollingsworth's eulogy: "Hollie, you keep 'em flying, and I'll keep 'em firing."
As reported by Greenville Online:
Standing guard, without the cane that the 83-year-old normally uses, Cox was paying tribute, one Marine to another.
But in giving the eulogy, he fulfilled his final vow to his friend.
When he learned that Hollingsworth was terminally ill, Cox went to visit, and his old friend Hollie asked Cox to give the eulogy at his funeral.
"I said, 'Boy, that's a rough mission you're assigning me to there,'" Cox said.
The military forges strong bonds among the men and women who serve, but for Marines, that connection is even stronger.
"There's a bond between Marines that's different from any other branch of service. We're like brothers," he said.
The two men met on their way to Vietnam in 1968. After his service Hollingsworth settled in Georgia, while Cox spent 20 years in the Marine Corps and went on to receive the Distinguished Flying Cross for his service.