Senators Charles E. Grassley and Lindsey Graham recently told the Justice Department that they believe they had reason to believe Christopher Steele – the former British spy and author of the infamous Trump dossier.
We now know, of course, that Steele lied to federal authorities about his "sources" in obtaining information against Trump.
With their singling out Steele, the Democrats have gone back on the offensive against the Trump administration and their unwavering belief that he colluded with Russian officials during the 2016 campaign.
"I don't take lightly making a referral for criminal investigation," Grassley said. "But, as I would with any credible evidence of a crime unearthed in the course of our investigations, I feel obliged to pass that information along to the Justice Department for appropriate review."
Democrats were furious.
"It's clearly another effort to deflect attention from what should be the committee's top priority: determining whether there was collusion between the Trump campaign and Russia to influence the election and whether there was subsequent obstruction of justice," said Senator Dianne Feinstein of California, the top Democrat on the Judiciary Committee, who added that she had not been consulted about the referral.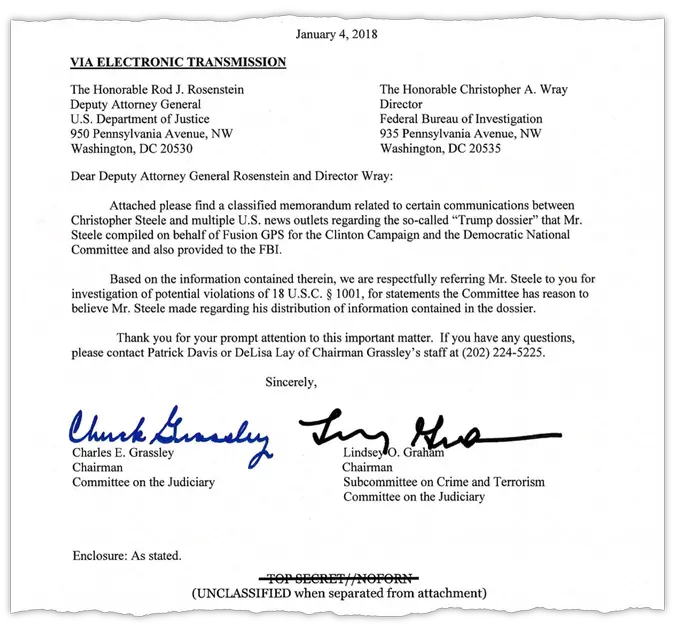 To that end, Grassley is overseeing inquiries between the FBI and their investigation into both Hillary Clinton as well as the 2016 Trump campaign team. Both Senators have pressed Fusion GPS and their handling of the dossier specifically in regards to gaining access to key witnesses and documents about the matter.
And they're not the only ones. Representative Devin Nunes of California, the chairman of the House Intelligence Committee, is on board, pushing for more focus of Fusion's Russia investigation of the dossier. He seems to have gained access to the FBI documents as well as key witnesses that he believes will crucial to getting to the bottom of their possible work with the dossier.
(H/T & Photo Credit: NYT)