Hollywood has long been rumored (at least among us outside their domain) to be a creep-mill where creepers roam around creepin'
And so seems to be the case here. Ben Affleck was called out by Rose McGowan saying that he purposely left out some of what he detailed of Weinstein's behavior and now a video has surfaced of the famed actor perhaps pulling a Weinstein.
FYI I called it PULLING A WEINSTEIN FIRST!
Affleck went on the offense and called Weinstein out and someone managed to get their hands on a video of Affleck pulling a Weinstein on a woman conducting an interview with him suggesting that the young lady go topless.
"They would like it better if you did this show topless, the station, wouldn't they?" asks Affleck, while hugging on Losique.
"You usually show a lot more cleavage than this," he continues. "What's the story?"
"It's Sunday morning," she replies.
"That's never stopped you before, from getting them t***ies out," responds Affleck.
After asking if they can do a "Janet Jackson stunt," Affleck asks the host if she's "wearing a nipple ring."
He later mocks the mentally disabled, using the slur "retarded."
"Don't make me look like I am retarded!" he said. "I look like I have cerebral palsy . . . That maybe offends. We cannot offend — only in America."
So many of the Hollywood liberal elite attempted to call out Trump and his 10+/- video where he illicitly stated that he'd grab women by the p***y but all these various things really coming to light can show you the true hypocrisy of liberals.
I wonder how many of these fellas regret moves like this that they've done in their past? Maybe they need to reconsider their damnation of President Donald Trump and things he may have said or done in his past, you know? We all have crap we wish we could take back.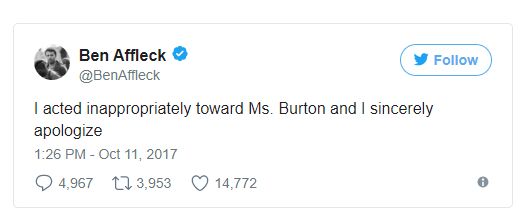 That said… AFFLECK YOU THE BOMB IN PHANTOMS!