Despite a lot of other outlets reporting on some very controversial stuff that Ariana Grande said years ago (which is bad, don't get me wrong!), she's reportedly offered to cover the funeral costs of the victims of the Manchester bombing.
The bombing happened just as Grande's concert was ending and resulted in 22 people killed and over 120 injured in what was a suicide attack. The pop star posted to her fans that she was "broken" by what happened and has canceled her tour.

ISIS has taken claim of the devastating attack.
A fan site called Ariana Updates! shared a post saying: 'News on Ariana: Ariana has reached out to the families who's loves ones died last night….she is gonna pay for the funerals!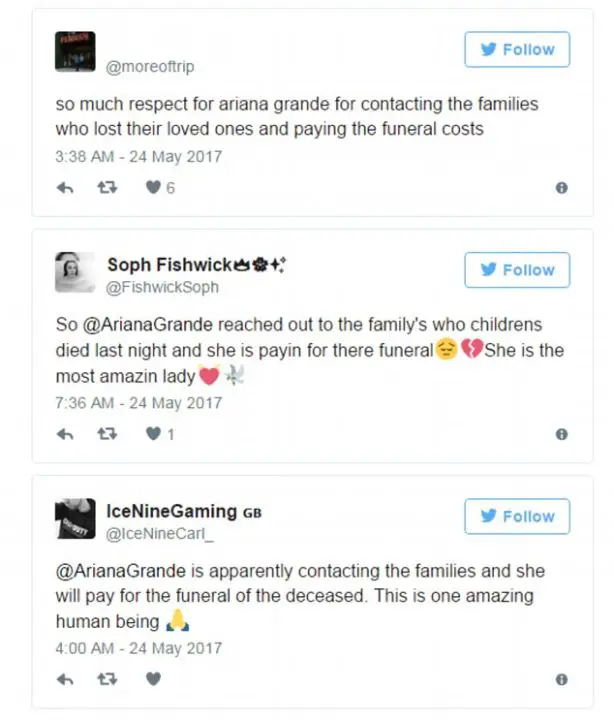 As written for DailyMail.co.uk by MARC JACKSON FOR MAILONLINE:
The claims come after nine of the victims were named, including eight-year-old Saffie Roussos and 18-year-old Georgina Callander.
Ariana had previously met Georgina at a fan meet-and-greet, posing for a picture with the beaming teen.
As the chaos following the attack unfurled on Monday night, it has been claimed that the singer's mother Joan immediately escorted terrified fans to safety backstage after the explosion was first heard.
The site reports that Joan had still been sitting in her seat on the front row when the bomb detonated in the venue's lobby after the show – and was quick to come to the aid of surrounding fans.
Fellow concert-goers reveal Joan had called as many as 10 children to follow her backstage, leading them to safety seconds after the attack that has killed 22 and left 119 injured.
The site reports that Joan had been preparing to visit her daughter backstage and congratulate her on another tour performance, when the suicide bomber targeted the sell-out concert.
Eye-witnesses state Joan, flanked by Ariana's security team, had then escorted a large group of fans sat close the stage out of the concert hall and into to the dressing rooms.
A suicide bomber had targeted Ariana's sell-out concert at the Manchester Arena on Monday night, leaving at least 22 dead and 119 more injured after the explosion rang out through the venue's lobby.
Aaron, Ariana and the rest of their team had been on their way back to their dressing room when they heard the bomb go off, before they were evacuated in a matter of seconds after the 'surreal' moment.
The drummer sent his account of tragic attack to journalist Steve Chenevey at the news network, who subsequently shared it on social media for fans to read.
Star will pay for terror funerals, claim Ariana Grande fans