Kali Wilgus and Liz Connelly decided to open their own burrito shop, called Kooks Curritos in Porland, Oregon.
Housed in a taco truck, it was an amazing success for the first months, so much so that a local newspaper did a story about the entrepreneurial duo. Then, these two women were essneitally forced to close-up shop after being accused of cultural appropriations.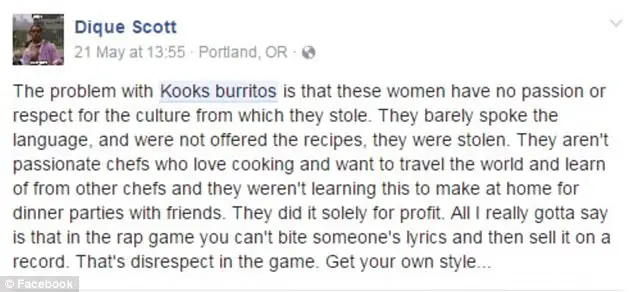 Luckily, many others came to their rescue seeing this attack for exactly what it is!
'Seriously!!!!? Do you not think they were speaking metaphorically "looking in people's windows"? She ended up with a tortilla recipe she developed herself and she puts french fries in them. Such cultural appropriation,' another said.
'Oh my god. you cannot be serious,' another wrote.
'If learning how to make a food from another culture and selling it is now considered cultural appropriation, then why not take this issue up with the successful Portland businesses that have been doing this at a much larger scale for years, and stop harassing these two women struggling to start a small business,' another added.
Kooks Burritos has deleted its website, Instagram account, Facebook page, and Twitter profile.
As written for DailyMail.co.uk by LIAM QUINN:
'This week in white nonsense, two white women—Kali Wilgus and Liz 'LC' Connely—decided it would be cute to open a food truck after a fateful excursion to Mexico,' the piece opened.
'The owners of Kooks Burritos all but admitted in an interview with Willamette Week that they colonized this style of food.
'So let's recap the story thus far: These two white women went to Mexico, ate tacos, and then decided they would just take what the locals clearly didn't want to give them.
'If that wasn't bad enough, they decided to pack up all their stolen intellectual property and repackage it.'
The piece went on to claim getting the weekend taco truck closed was a 'victory' in Portland – a city it accused of having 'underlying racism'.
'These appropriating businesses are erasing and exploiting their already marginalized identities for the purpose of profit and praise,' it stated.
Many on social media and the comments section of the Williamette Week article shared in the outrage.