It was recently revealed that Mark Warner had been in contact with a Russian lobbyist Adam Waldman in an effort to get in touch with Christopher Steele, author of the now infamous Trump dossier.
The significance, among others, is that Waldman previously represented Russian billionaire Oleg V. Deripaska, who is known to be close to Putin. Probably-a-RINO Marco Rubio jumped to his defense, stating on Twitter: "Sen.Warner fully disclosed this to the committee four months ago.Has had zero impact on our work."
So, Mr Probably-a-RINO Marco Rubio, if Mark Warner had nothing to hide why was he using an encrypted communication app?
The app he was using is called Signal, it's an encryption app and he even had his message set to automatically disappear. Note the Hourglass icon in the text message image below: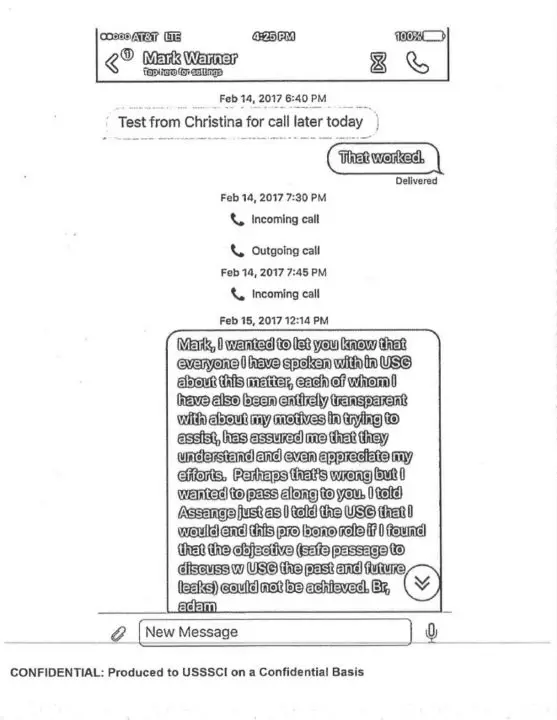 As reported by Fox News:
Secrecy seemed very important to Warner as the conversation with Waldman heated up March 29, when the lobbyist revealed that Steele wanted a bipartisan letter from Warner and the committee's chairman, North Carolina Republican Sen. Richard Burr, inviting him to talk to the Senate intelligence panel.
Throughout the text exchanges, Warner seemed particularly intent on connecting directly with Steele without anyone else on the Senate Intelligence Committee being in the loop — at least initially. In one text to the lobbyist, Warner wrote that he would "rather not have a paper trail" of his messages.
An aide to Warner confirmed to Fox News that the text messages are authentic. The messages, which were obtained from a Republican source, are all marked "CONFIDENTIAL" and are not classified. They were turned over to the Senate panel by Waldman last September.
Waldman, who did not return calls seeking comments, runs the Endeavor Group in Washington.
Waldman is best known for signing a $40,000 monthly retainer in 2009 and 2010 to lobby the U.S. government on behalf of controversial Russian billionaire Oleg V. Deripaska. Deripaska had his visa revoked by the State Department in 2006 because of charges, which he has denied, that he has organized crime ties.