Andrew Therriault, former director of data science at the Democratic National Committee put Hillary Clinton on blast via Twitter after she attempted to blame her defeat to President Donald Trump on "the fact" that the DNC fell far behind the RNC on the data itself, saying it was "mediocre to poor, nonexistent, wrong."
In fact, Therriault called it "f**king bulls**t"
The related tweets have since been deleted but they stated: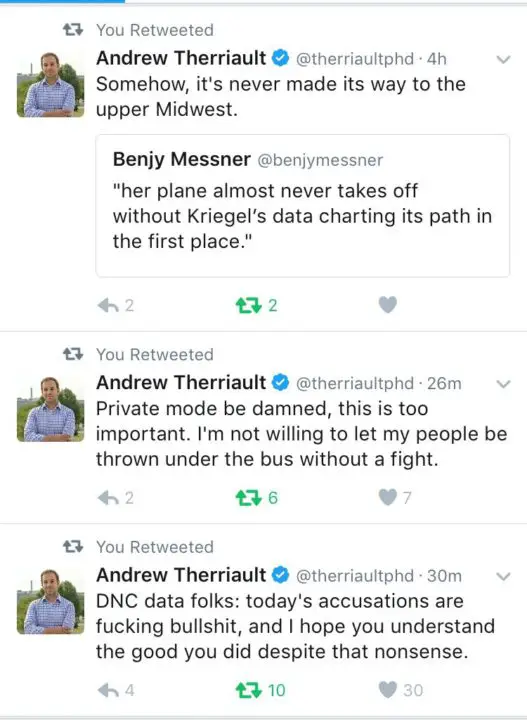 And back in February, he wrote a post on the Medium blog which explained why the DNC's data science team could not account for poor campaign messaging.
"In 2016, the Democratic Party's messaging strategy did not work out like we hoped, and the use of data did not fix that," he wrote at the time.
Therriault also hinted on Twitter that he may write a new piece to fully respond to Clinton's latest accusations.
This is all in response, essentially, to Hillary Clinton coming up with any and every excuse she can as of late on WHY she lost, instead of accepting the fact that THE PEOPLE didn't want her there. During a recent appearance at a tech conference brought much more to light, stating she was "unfairly targeted" during the 2016 campaign, further stating that the media paid more attention to her own scandals than those of the so-called Trump-Russia collusion.
Even people on her side, such as Senator Al Franken believes she needs to move on from this and focus on other things.
"I love Hillary. I think she is very prepared to be president of the United States … and I think she has a right to analyze what happened, but we do have to move on," Franken said. "We have to move on by proving we are the party that cares about a lot of the people who voted for Donald Trump."