Those wacky guys over at Anonymous decided to give their two cents after the Charlottesville crap that happened over the weekend by effectively shutting down Neo-Nazi and KKK related websites.
This is good… now they just need to see the alt-Left for what it is and perhaps deal our justice to all.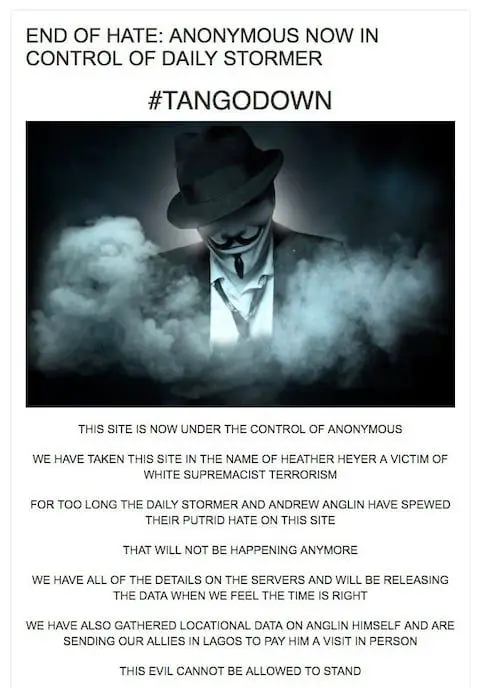 As reported by Yahoo! News:
The group claimed to have shut down numerous websites associated with the Ku Klux Klan and neo-Nazi organisations following the deadly clashes in Charlottesville.
People affiliated with the group also discovered the real names of dozens of people who had attended the rally, along with their known associations with the extreme movement, and posted them online with pictures.
As it launched the campaign, Anonymous posted a message to the citizens of the Virginia town that said it would fight "domestic terrorism and the alt-right in the wake of the attacks".
"Anonymous has taken steps to remove the websites of these far-right extremists under the banner of #OpDomesticTerrorism," said Anonymous. "Yesterday we were successfully able to shut down multiple servers that promoted and supported the hatred that happened in Charlottesville, as well as those that did not speak out against the domestic terrorist attack.
"We also were successful in outing multiple KKK members and white supremacists. This is merely just the beginning."
The group reported some rally attendees it had named had been let go from their jobs.
Anonymous denied that it had hacked the Daily Stormer's site as part of is latest operation, saying it was a hoax.
"We have no confirmation that 'Anonymous' is involved yet," said a Twitter account associated with the collective. "Looks more like a Daily Stormer stunt. Wonder if they are having issues finding a new host."
If the Daily Stormer fails to find another hosting service its website will be deleted within 24 hours. The alleged Anonymous message said it would take the site down within the same amount of time.