Sahar Tabar, an Iranian teenager, claims she's Angelina Jolie's biggest fan and was seeking anything that would help her look more like her idol.
She claims to have undergone around 50 cosmetic surgeries attempting to do so and in the process has, for lack of a better way of putting it, turned out looking more like the walking dead…
Amazingly, she has racked up over 300,000 followers on the social media site Instagram with people following her progress. It should be noted that the plastic surgeries have not been confirmed and there's speculation that she may be doing all this with some makeup and prosthetics.
But she also went on a crash dieting, losing a ton of weight in a short amount of time and judging by the photos — that's certainly not fake. The following photos are at different stages of her surgeries.
After seeing the photos I hope they're fake…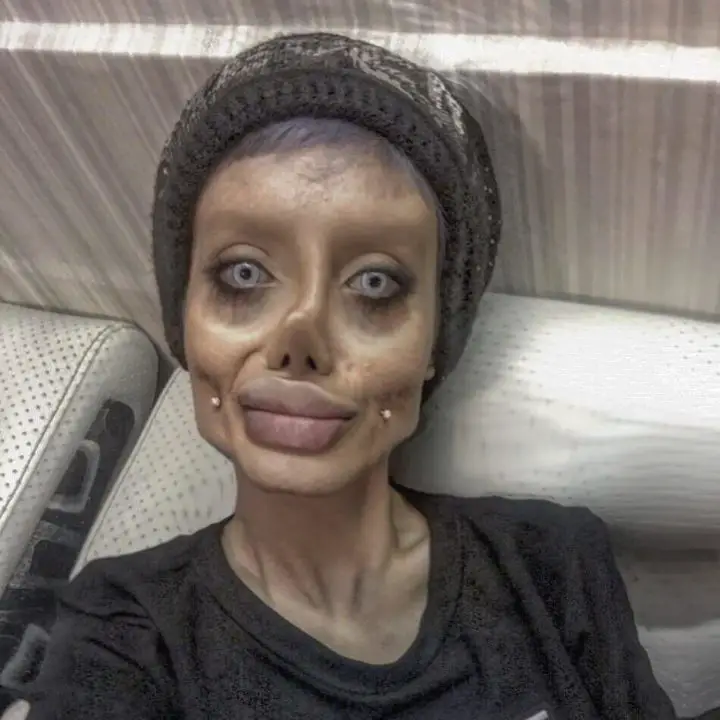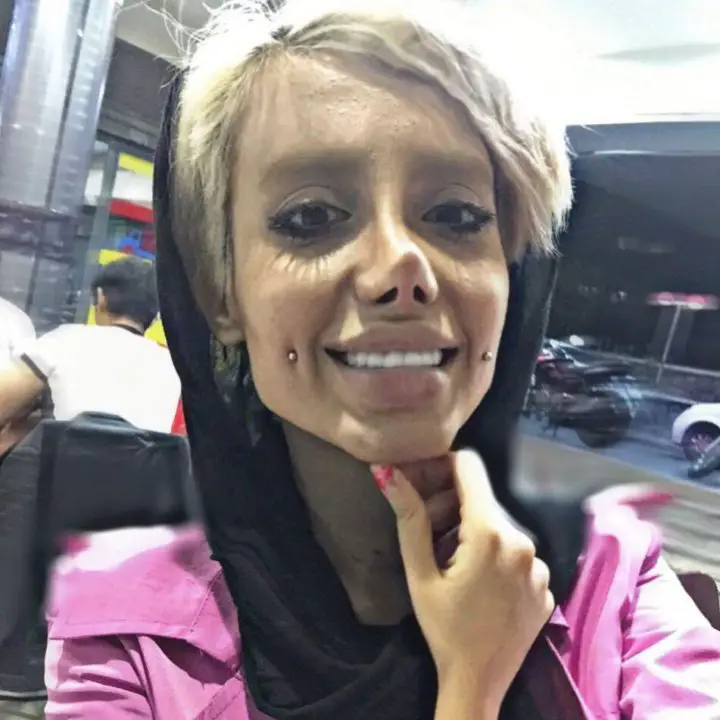 https://youtu.be/VfLzZC0rAUk
As reported by Heavy:
1. She Has Reportedly Lost 88 Pounds and Undergone 50 Plastic Surgeries to Look Like Angelina Jolie
Although it has not been confirmed that Tabar's look is the result of plastic surgery, there has been a troubling increase in the incidence of teens who desire, and have undergone, these kinds of procedures, in general.
2. Some Have Speculated Tabar Is Using Prosthetics and Hasn't Had Any Surgery
Some people are calling her bluff, saying she has used prosthetics to achieve the extreme look. A number of people have pointed out that Tabar's lips appear to be a different size in different photos, suggesting prosthetics are involved.
3. Her Instagram Following Rose by over 60K on Thursday
On Thursday afternoon, she had 365K Instagram followers. By the early evening, she had amassed over 434K followers. Nearly every photo is a selfie showing the Iranian teen's attempt to emulate her idol with pointed cheekbones and pouty lips.
4. She Has Removed 'Before' Photos from Her Instagram Account
An "Artists" page has also been created for Tabar on Facebook. As of Thursday evening, the page had over 450 followers– it started the day with under 100.
5. Sahar's 'Before' Photos Are Circulating on Twitter
A number of users have posted 'before' pictures to the social media service, commenting on Sahar's drastically-changed appearance. On Thursday, one Twitter user uploaded as screenshot of a news article about Sahar, and commented, "#sahartabar before and after her surgeries!!!! In a futile attempt to look like #AJo !! This is really sad. And raises qs on this over emphasis on looks and the body!?"