Colin Kaepernick made a $25,000 donation to the Chicago-based organization Assata's Daughters as part of a $1,000,000 pledge. 
Assata's Daughters is named after Former Black Liberation Army member Assata Shakur who was convicted of first-degree murder in the 1970's. Shakur show state trooper Werner Foerster, killing him, and was sentenced to life in prison.
Assata Shakur escaped prison and now lives in Cuba as a fugitive. Shakur, whose legal name is JoAnne Chesimard, is currently on the FBI's Most Wanted list.
You all know of Kaepernick by now so I won't bother you with those details. But I do wonder if he knows who and what he is donating to? Is he paying attention at all and even still is this a planned move on his part? Perhaps, and I'm speculating here, with his career seemingly coming to an end he's trying to get his leg in some proverbial door for future revenue?
What do you think? What's the motive here?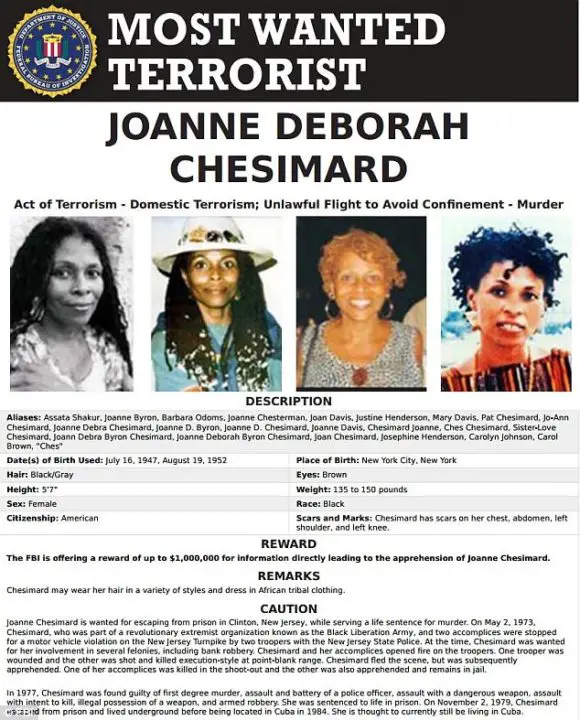 As reported by DailyMail.co.uk:
Assata's Daughters was founded in 2015 to 'develop and train young people, ages 4-19, in the Black queer feminist tradition and in the spirit of Assata,' according to the group's website.
'We prioritize this work to help the current momentum of the Black Lives Matter movement to carry on into the future,' the statement continues.
Kaepernick's foundation specified that $2,500 of the donation would go to Cop Watch, a program that trains volunteers to follow and video police officers.
Another $15,000 is earmarked for 'teen workshops'.
Shakur, whose legal name is JoAnne Deborah Chesimard, has become a revered figure in some activist circles, despite currently lodging on the FBI's Most Wanted list.
A former Black Panther who joined a more militant offshoot of the group, Shakur was already wanted on several charges when Trooper Foerster pulled over a car she was in for a broken taillight.
[…]
Here's Colin explaining the protests…