Bill O'Neill, an Ohio Supreme Court justice, and a Democratic gubernatorial candidate has a really weird defense when it comes to the Al Franken allegations…  by bragging about all the women he's been with. 50, he says…
Not really the right defense there, Billy Boy, considering that the whole #MeToo thing is all about bringing this sort of stuff to light and condemning it.
And he made the post on his Facebook page which of course has since been removed but plenty of folks got a screenshot of it before that happened.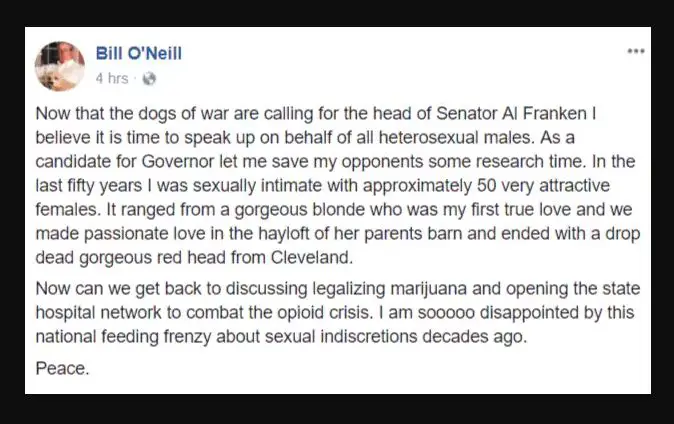 "As a candidate for Governor let me save my opponents some research time," O'Neill wrote. "In the last fifty years I was sexually intimate with approximately 50 very attractive females. It ranged from a gorgeous blonde who was my first true love and we made passionate love in the hayloft of her parents barn and ended with a drop dead gorgeous red head from Cleveland.
"Now can we get back to discussing legalizing marijuana and opening the state hospital network to combat the opioid crisis."
As reported by Lindsey Bever and Marwa Eltagouri for The Washington Post:
As O'Neill's first Facebook post circulated, Ohio Chief Justice Maureen O'Connor said she was shocked by her colleague's comments.
"No words can convey my shock," O'Connor said in a statement emailed to The Washington Post. "This gross disrespect for women shakes the public's confidence in the integrity of the judiciary."
Ohio Democratic Party Chairman David Pepper said O'Neill's remarks were "terrible," especially given their timing.
"We're having a serious national conversation about rape culture and sexual harassment, and it's crucial for men to take time to listen to women and consider their experiences and insights," Pepper wrote on Twitter, adding, "Justice O'Neill's Facebook comments both dehumanize women and do nothing but trivialize this important conversation, which is actually about harassment and abuse, not encounters between consenting adults."
O'Neill could not be reached for comment Friday by The Post.
His campaign spokesman, Chris Clevenger, condemned O'Neill's comments, calling them "both disturbing and misguided." Clevenger said he was quitting the campaign.
The justice's remarks came one day after broadcaster Leeann Tweeden publicly accused Franken of forcibly kissing her during a USO tour in 2006 and groping her breasts while she was sleeping on a plane during the trip home. Tweeden's revelation was made shortly after an explosive congressional hearing on sexual harassment, which female lawmakers said is a pervasive problem on Capitol Hill.