Americans Take Action president Ryan Clayton managed to bypass security at the Capitol building and get alarming close to President Donald Trump.
He started his protest and saying "Trump is treason! This is not about tax reform!", throwing Russian flags on the floor, as Trump passed by the Press.
"Why are you talking about tax cuts when you should be talking about treason?" he shouted. "Why is Congress talking about tax cuts when they should be talking about treason?"
Law enforcement got Clayton shortly after he began yelling and took him away from the President and the press. This isn't the first time Clayton's done this sort of thing, either. He was kicked out of the 2017 Conservative Political Action Conference for handing out Russian flags to the attendees.
https://www.youtube.com/watch?v=MvUC5Ol81co
All in all, it seems like it was pretty easy for him to get through. Secret Service, The Trump admin, and the local law enforcement seriously need to take note of this. They're lucky he wasn't a straight-up lunatic… like seriously.
Here's a photo of him, as many reporters in attendance noted that he could be spotted well before the incident occurred. Based on this, it's clear that this was a very well thought out plan and not just some random "I'm going to see if I can do it" moment for the wayward soul.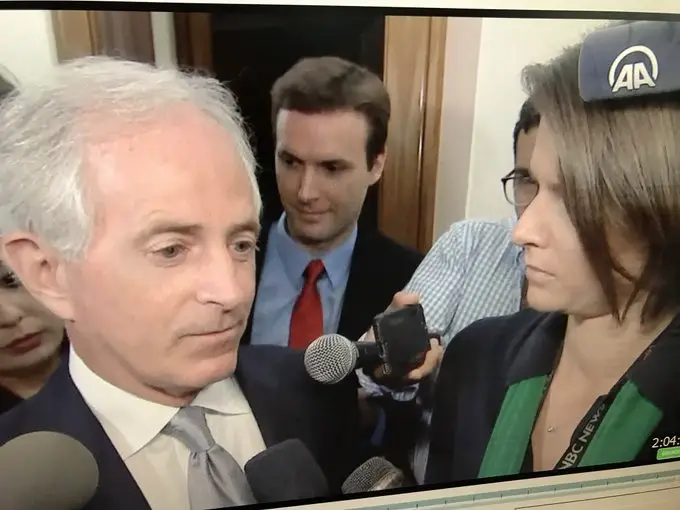 As reported by The Intercept:
Clayton also accused the president of conspiring with Russian agents to steal the election before being escorted out by police.
Clayton is head of the group Americans Take Action and, as the name suggestions, is no stranger to direct-action tactics. At the most recent Conservative Political Action Conference, Clayton tricked right-wing activists into waving Russian flags while Trump spoke.
He was also involved in a high-profile incident with conservative provocateur James O'Keefe, when Clayton secretly filmed O'Keefe's speech at a fundraiser, and then interrupted it by breaking into song. He was dragged down the steps and tossed from the event.