As we near the end of Donald Trump's first year as not only our President but an amazing President, we sometimes forget that he's a family man.
Time and again his wife and his kids have shown us that he is just that, too… a husband and a father. He's done a lot in his first year and we here at Steadfast Loyalty know that there is much more to come.
While celebrating Christmas, Trump via First Son Donald Trump JR showed us he has a lighter, more playful side — especially with that of his son Barron.
The family gathered in Mar-a-Lago (south Florida) and while Barron was posing for an already goofy pic with his nephews, Spencer and Tristan, Donald Trump took the opportunity to photobomb!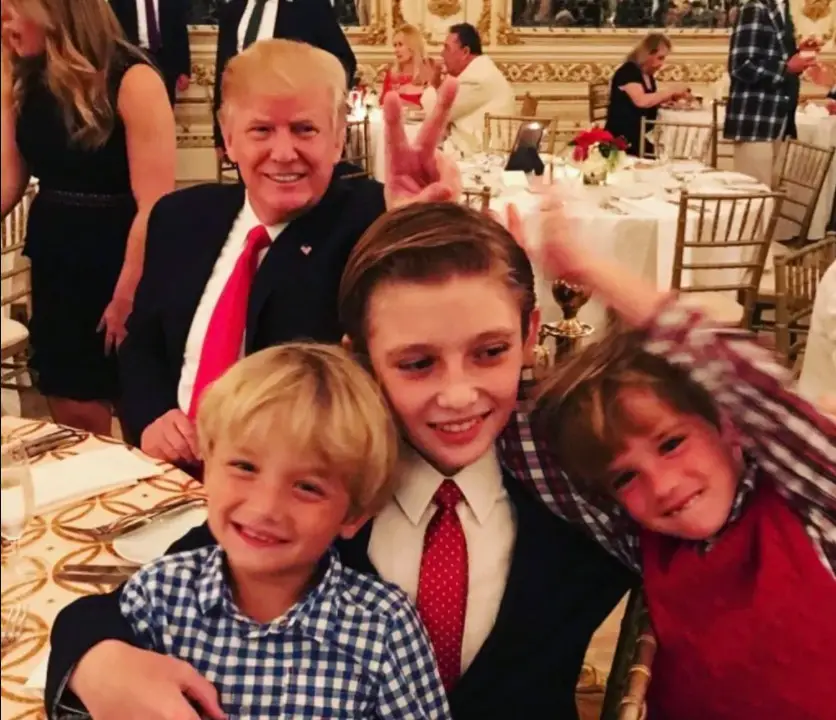 "Ha, now that's a photo-bomb," Trump Jr. captioned the photo. "[Donald Trump] jumping in on a photo of Spencer and Tristan horsing around with Barron at Christmas dinner."
It's great to see he has time for his family — he's been really busy after all. Here are a few things he's managed to accomplish during his first year:
As reported by Richard Baris for Rasmussen Reports:
Tax Cuts and Jobs Act
President Trump signed the Tax Cuts and Jobs Act before Christmas, ensuring U.S. business commitments for bonus payouts to at least hundreds of thousands of Americans workers. Within hours, numerous businesses announced wage increases and billions of dollars in various industry investments.
Repealed Individual Mandate
The tax overhaul also repealed the individual mandate in ObamaCare. Republicans targeted the individual mandate during arguments before the U.S. Supreme Court and lost because the Bush-appointed Chief Justice John Roberts rewrote the law to uphold it.
Arctic National Wildlife Refuge (ANWR)
For nearly 40 years, Republicans have tried and failed to open the Arctic National Wildlife Refuge (ANWR) for oil drilling. Since the 1980s, the effort always failed in the face of intense opposition because weak congressional Republicans were too afraid of the Democrat-Big Media coalition.
Set Record for First-Year Judicial Appointments to Federal Appellate Courts
President Trump on December 14 officially set a record for the most federal appeals judges appointed during the first year of a presidency, more than any other before him. The U.S. Senate pushed through the twelfth federal appeals court nominee that day, breaking the previous record held jointly by Presidents Richard Nixon and John F. Kennedy.
Historic Reduction in Illegal Immigration
President Trump made cracking down on illegal immigration the centerpiece of his campaign and end-of-year statistics from the Department of Homeland Security (DHS) show historic success during the first year of his administration.
The U.S. Customs and Border Protection (CBP) in FY 2017 reported a 23.7% decline over the previous year. Illegal migration along the Southwest border declined sharply from January 21 to April, which was the lowest month of border enforcement activity on record. In FY 2017, CBP reported the lowest level of illegal cross-border migration ever on record.
Crushing ISIS Caliphate
In October, the U.S. Pentagon confirmed to People's Pundit Daily (PPD) that Raqqa, the "capital of terrorism" in Syria, had fallen. Secretary Rex Tillerson said the fall of the Islamic State (ISIS) capital was accelerated by "critical decisions" made by President Trump.
Reviving the National Aeronautics and Space Administration (NASA)
In his first 100 days, President Trump signed the National Aeronautics and Space Administration Transition Authorization Act of 2017, which acting Administrator Robert Lightfoot said was vital for "our nation's space, aeronautics, science, and technology development programs to thrive."
81 Signed Legislative Accomplishments
Whether you agree with them all policy-wise or consider them significant accomplishments, is irrelevant. As a data journalism-centered site, we find records noteworthy and this is yet another record. The previous record was held by President Harry S. Truman.
(H/T Rasmussen Reports | Photo credit: Donald Trump Jr./Instagram)