Brett Kavanaugh's wife was the city manager of Chevy Chase, Maryland and not the New York Times and the AP are trying to dig up on her to use to scuttle the nomination of Kavanaugh to the Supreme Court.
Since there have never been any accusations lodged against Ashley Kavanaugh, this appears to be a fishing expedition fueled by desperation. Kavanaugh appears to be a shoo-in for a seat on the Supreme Court and the Democrats and the media are trying to Bork him. The two fake news entities are taking different paths. The AP wants every email she ever sent or received, while the Times has provided a list of keywords and they want every email containing those words.
From The ntknetwork.com
The New York Times and Associated Press both filed requests under the Maryland Public Information Act (PIA) seeking e-mails that Ashley Kavanaugh, the wife of President Trump's Supreme Court nominee, Judge Brett Kavanaugh, sent as town manager of The Village of Chevy Chase Section 5, according to documents obtained by America Rising Squared (AR2) and shared exclusively with the NTK Network.
By contrast, The New York Times is currently requesting that The Village of Chevy Chase Section 5 hand over "any emails to or from Ms. Kavanaugh that contain any of the keywords or terms listed below."
And what a list it is, including words like "liberal," "abortion," "gay," and "federalist," while also explicitly asking for e-mails containing the names of certain individuals.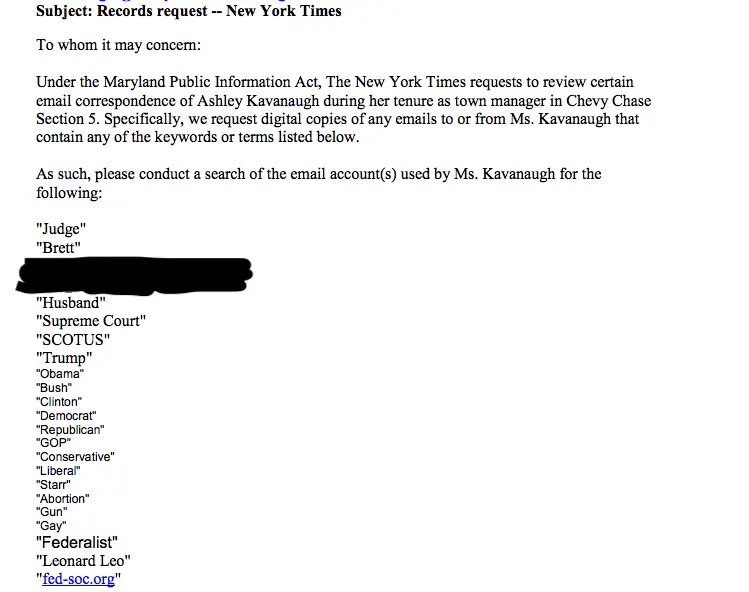 What if politicians in Congress were judged by their spouses? There would be a bloodbath. This fishing b.s. needs to stop. Seriously. In case you don't remember, Kavanaugh is Trump's pick for the Supreme Court. He's the one we're rooting for. What do you think? Are these fishing expeditions ok? Do you think Kavanaugh has done anything wrong?