Florida native Sable Marie Mongold took to social media to call for a mass shooting to happen at an NRA meeting. Whether or not she meant it is more "in the air" if you ask me… like a "half-kidding" joke.
This is not the time for this sort of "joke" (if it were that) in the current heated political and social climate. This sort of crap should get her locked up. And let's face it, If someone was actually crazy enough to take this b.s. bait, they would be dead before they could even get a target in their sights!
She's SO AGAINST gun violence, that she ADVOCATES gun violence against gun owners…typical liberal HYPOCRITE !!!!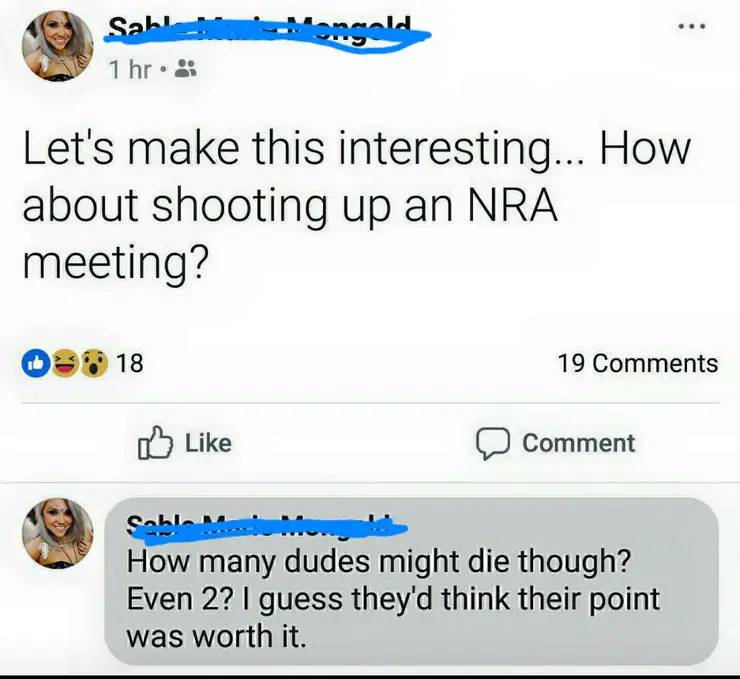 I looked her up to verify this 100% but since we're not on each other's friends list I can't see all her content. So it's either that or it's baloney. But given what I am able to see, I'm willing to bet it's not. She's clearly a brainwashed liberal based on what I'm seeing.
This primarily seems to be a call in response to the Parkland, Florida shootings.
More about the Parkland shooting as reported by CBS News:
An orphaned 19-year-old with a troubled past and an AR-15 rifle was charged with 17 counts of premeditated murder Thursday morning after being questioned for hours by state and federal authorities following the deadliest school shooting in the U.S. in five years. Fifteen wounded survivors were hospitalized as bodies were recovered from inside and around Marjory Stoneman Douglas High School. Officials said the suspect shot into five classrooms and hid among students as they were fleeing the campus fearing for their lives.
Nikolas Jacob Cruz was booked into the Broward County Jail early Thursday, still wearing the hospital gown he was given after being treated for labored breathing following his arrest. Later in the day, a Broward County Sheriff's Office report said Cruz confessed to being the shooter at Marjory Stoneman Douglas High School. He told interrogating officers that he "began shooting students that he saw in the hallways and on school grounds" on Wednesday afternoon, according to the report.
The report added that Cruz told officers he "brought additional loaded magazines to the school campus and kept them hidden in a backpack until he got on campus to begin his assault." Cruz told investigators that as students began to flee, he decided to discard his AR-15 rifle and a vest he was wearing so he could blend in with the crowd. Police recovered the rifle and the vest.
The police report added that Cruz purchased the rifle in February 2017.
Cruz appeared in court Thursday afternoon and was ordered held without bond. He was wearing an orange jumpsuit with his hands cuffed at his waist during the hearing.