As you already know, California has declared itself a sanctuary state. The new designation went into effect on January 1st, 2018. Basically what the law does is it protects illegal aliens no matter how many crimes they commit or how many people are killed and it relegates actual American citizens to the second tier of the food chain in the state. It may backfire on them big time though. Since they do not honor detainers from ICE or the DHS, they will be forced to pickk them up at home or work and any illegal alien who is with them can also be arrested and deported.
Some people thought it would be funny to add another sign below the one that welcomes you to California  and here is what it looks like: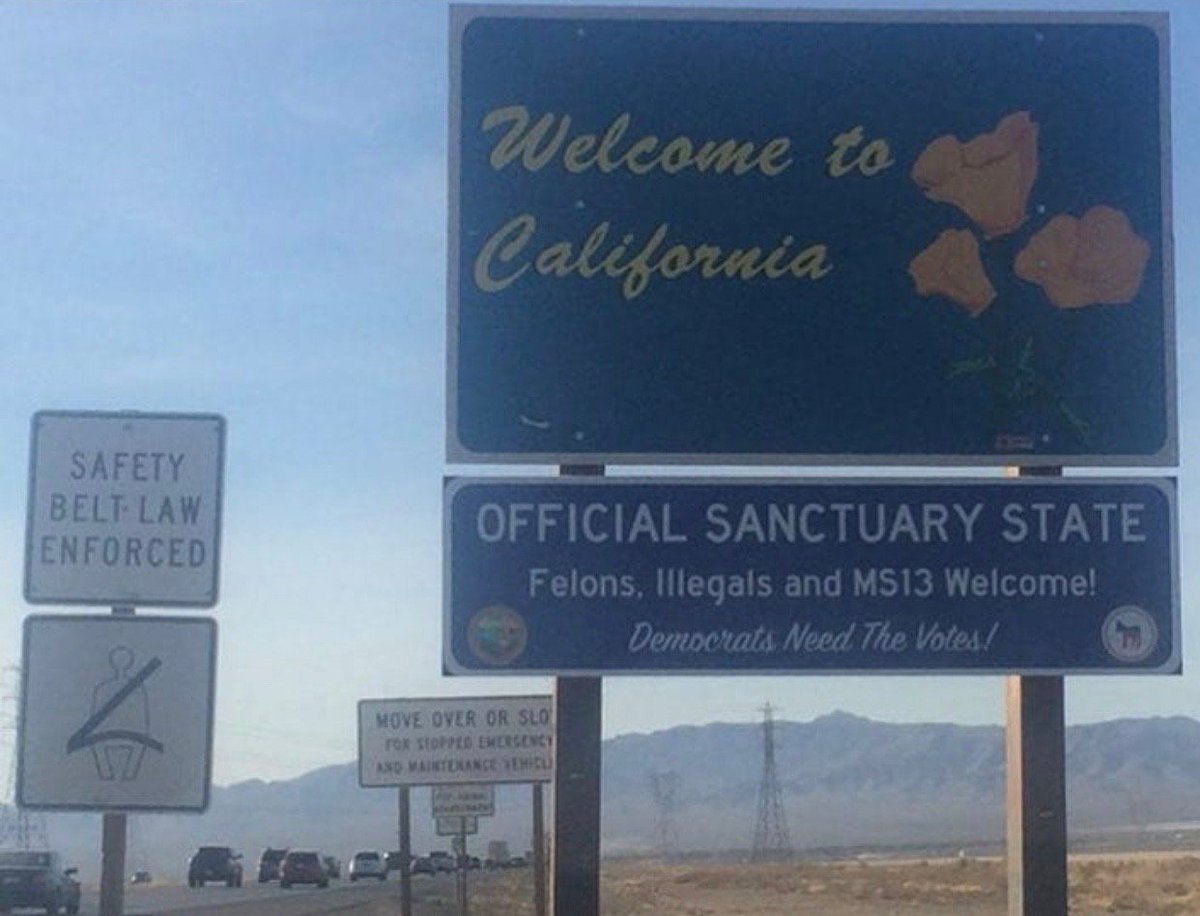 There were several signs with the added sign below it on California's borders with other states. The sign may look funny but the repurcussions of the new sanctuary policy is anything but humorous. Accurate perhaps but not humorous. I would love to see Congress pass a law making any local or state government that is a sanctuary city be criminally and financially responsible for any crimes committed after the state or local government frees them rather than turn them over to the feds. It's a law that makes good common sense.
California became a "sanctuary state" on Monday after a bill Democratic Gov. Jerry Brown signed into law in October officially took effect.
The law bars police in the nation's most populous state from asking people about their immigration status or participating in federal immigration enforcement activities in most cases.
The Golden State is home to an estimated 2.3 million illegal immigrants.
The signs in photos and videos being circulated on social media are similar to one placed in Malibu in April 2017, after it declared itself a sanctuary city.
"Official Sanctuary City 'Cheap Nannies and Gardeners Make Malibu Great!' (Boyle Heights Not So Much.)" read the sign on the side of the Pacific Coast Highway, according to FOX5.
That sign was reported by a California State Parks employee to authorities but was already taken down by the time deputies arrived to investigate.
 Malibu Councilwoman Laura Rosenthal had told the Los Angeles Times. "It's down, and it's very disheartening that anyone would put up such an ugly sign." No, Ms Rosenthal, it's a disgrace that anyone had to point out the folly of your ways.