Michelle Broder Van Dyke wrote a pretty interesting piece for Buzzfeed (yeah I know… don't shoot me) where she details the moments after the infamous emergency alert went out this past Saturday to the residence of Hawaii… it's pretty intense.
First, she details how her morning went, it seems pretty routine.
The caffeine began to hit me. I was reclining on the couch, listening to the birds chirping outside the windows of our secluded jungle home and reading the news on my phone — when, suddenly, it started vibrating and I saw this all-caps message.
It was that moment that the alert went out.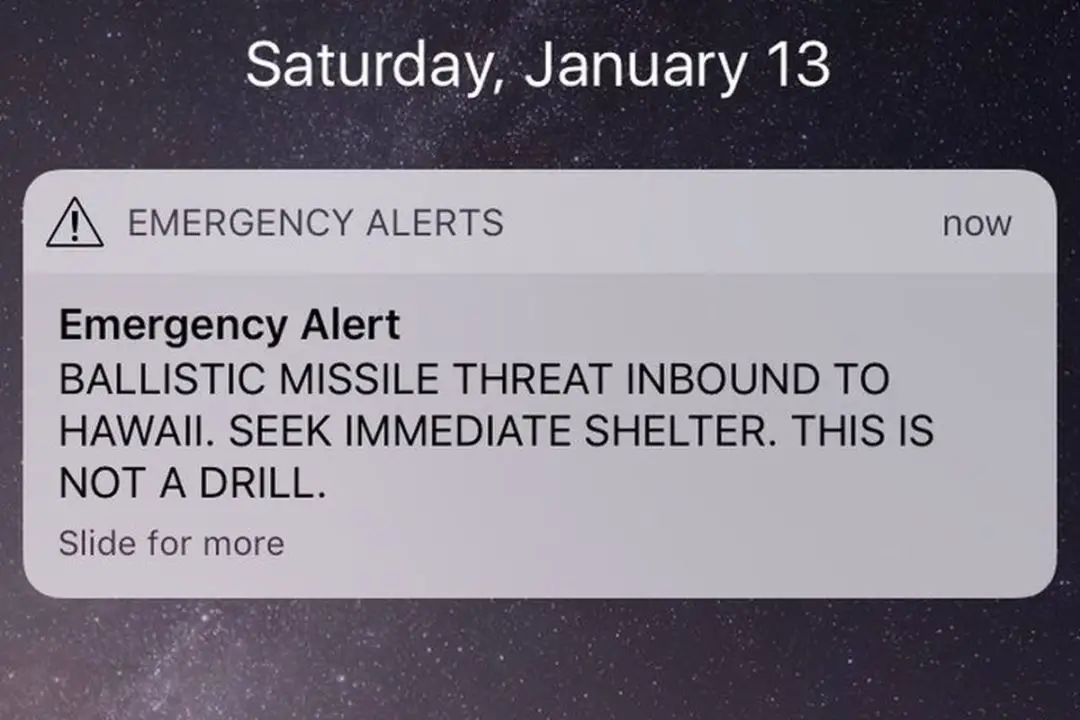 She stopped dead in her tracks, wondering if it was real and reading it over again. "THIS IS NOT A DRILL".
I jumped off the couch and ran downstairs to find my husband. He was in the bathroom. I screamed at him through the wall: "Did you get the message?!"
Her husband remained calm, it was clear to Michelle that he had not received it yet. It seems that there was a delay in the time she got it versus the time he got it.
During this time she and her mother pondered over the idea of it being real. While I realize it was not real what if it had been? They seemed to waste a lot of time wondering…
"Call Eric!" I said, referring to my brother, who lives in the Kapahulu neighborhood in Honolulu. (I have another brother, but he is traveling on the mainland. I felt slight relief at this thought.)

My husband came rushing upstairs. He had now received the message, but for some reason his phone was a few minutes behind ours.

"We're supposed to shelter in place," I said. "So let's stay here and close all the windows."
They, along with her mom, live in the home she grew up in. Given the recent events and tension with North Korea and what they were seeing reported on the news, they began to take it a little more seriously.
As I looked through a big window in the living room, I could see most of Honolulu below. On the edge of the city is the lush Diamond Head, an extinct volcanic crater. Beneath that lie rows and rows of homes that seem to melt together. The suburban boxes feel like they would just fall into the sea, if not for the skyscrapers that dot Waikiki and downtown Honolulu and form a wall that stops the houses from flowing straight into the ocean.
She quickly began shutting all the doors, shutters, you name it… thinking about the possibility of nuclear fallout.
Given this, too, Emergency services in the area had been telling people to gather supplies for the last two weeks just in case.
Emergency Management Agency officials had warned people to gather supplies to last for up to two weeks in case people needed to "shelter in place" to avoid nuclear fallout. "Shelter in place" is the new "duck and cover" — it's the mantra EMA officials have been telling Hawaii residents in press conferences and television commercials in preparation for cases like this.
Unfortunately, and perhaps like many of us, they hadn't made any preparations.
The family gathered in the kitchen, all glued to the TV, eager to see what the news had been reporting on the situation.
She started getting texts from friends, asking if it were real. Not sure how to respond, and I'm sure like most residents of the area, all she could say is "Seems like it".
Her mom began calling loved ones to tell her she loved them. Friends family, and the like all seemingly not sure what to do.
Then, at the speed of Twitter, she saw a message from Rep. Tulsi Gabbard telling everyone it was a false alarm.
(H/T Michelle Broder Van Dyke via Buzzfeed)
It really makes me wonder just how prepared my family would be in such a situation. I'm not typically one to fall into such pits and feelings of despair on such matters I do wonder if I should at least stockpile some canned goods.
What do you think to prepare for such things?